Who is a good fit for a mindfulness class?
Since these classes were designed as a preventive tool, all kids can benefit from participating. Our focus is on a non-clinical population with the goal of helping children develop stronger coping skills. Although these tools can be very helpful for children who are struggling with anxiety, depression, impulse control, and attentional issues, this class is not designed to be a substitute for individual therapy and is not a therapy group.  If your child shows mild difficulties and you feel that he or she could benefit from direct instruction in coping and self-regulation skills, this class may be a good fit.  You may particularly value the preventive aspect of teaching these skills early in life if you have a family history of anxiety, depression, substance abuse, or other impulse control problems.
What if my child is seeing a therapist?
This class can be a nice complement to work that your child is doing with an individual therapist. It is not therapy or a substitute for therapy. If your child is currently in individual therapy they can still enroll in our class, but we suggest that you maintain the therapy relationship as well.
What skills do these classes develop?
Each lesson begins with a basic explanation of the learning objectives then  progresses to group practice, discussion, review, and preparation for home practice. While certified in the paw.b and .b curricula, we draw from a range of mindfulness curriculum for children and from our own training and experience in teaching mindfulness to children and teens in various settings. Some of our topics will include things such as brain science and neuroplasticity, training our attention, handling difficult emotions, strategies for remaining calm when upset and regaining equilibrium more quickly, relating skillfully to our thoughts, feelings and body sensations, and methods for increasing a sense of well-being. We use a variety of approaches to develop skills including visuals, videos, discussion, experiential exercises, movement, art activities, and teaching specific tools.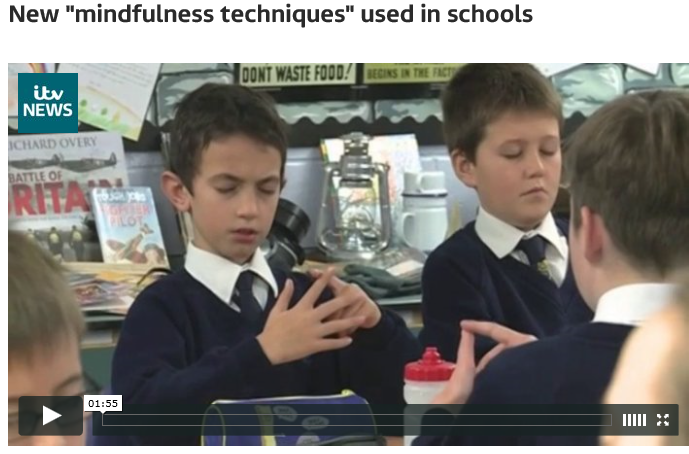 Does this class include religion or religious topics?
This is a secular class and there is no mention of religion, God or a higher power in the curriculum.  While meditation and mindfulness techniques are often attributed to Buddhism, almost all religions have some component of quiet time, reflection and prayer.  We did a lot of research before choosing this program and one of our criteria was that it be completely secular and able to be offered across various settings. These skills are supported by research to help with healthy brain and behavioral functioning and we felt that it was important for all kids to have access.
Do you offer discounts for more than one child?
We offer discounts for siblings registering for the same semester with $25 off enrollment for a second sibling, and $50 off a third.  In addition, if students would like to take the class a second time, enrollment is 50% of the class fee.
---
You may register for classes online, and can pay online or by mailing a check.
To pay by mail, click on the "register or pay online" button below, and complete the online registration information. Select the option "mail a check" on the registration form. Then, send your check to:
Atlanta Mindfulness Groups
Attn: Class Registration
P.O. Box 3405, Decatur  GA  30031
To register and pay online, click the green button below.